My good friend Mish chooses a word of the year instead of resolutions. A word to love by, grow with, become. A word to inspire, drive, live.
I love words. Always have. If I could make out with them, I would. Yes, I would go so far as to marry a word. There, I said it. Now let's all move on.
When I heard of this ritual, I was intrigued, but didn't immediately hop on board. I was pretty sure I wouldn't be alive in another year, so I wasn't really hopping on much of anything at that time.
Then I watched the word "yes" transform my friend Mish's entire world.
At the end of 2012, I was still suicidally depressed and chronically fatigued. I was on 4 psych meds that weren't making me any better. I was mentally and physically ill and had been for over 1.5 years. I really didn't think I would ever get better.
So I chose what felt like a Man of La Mancha sized word at the time.
To dream … the impossible dream … (To be healthy)
To fight … the unbeatable foe … (Crippling fatigue & mental illness caused by Hashimoto's & adrenal fatigue)
To bear … with unbearable sorrow … (Not being able to care for my child, wanting to die, losing friendships, almost losing my marriage)
To run … where the brave dare not go … (Into the gates of insanity)
To right … the unrightable wrong … (A horrific misdiagnosis, years of unnecessary psych meds, scores of doctors not realizing the obvious)
To love … pure and chaste from afar … (My family, my God, myself)
To try … when your arms are too weary … (And every fiber of my being)
To reach … the unreachable star … (Radiant health, strength & stamina)
The word I chose was "healthy." And while it did, indeed, feel like the impossible dream, all I needed was a spark of hope to get sober and it ends up that's all I needed to get healthy. What I'm saying is -
It worked.
But like faith, the word didn't work without action. The word gave me a framework and also told the universe that I was ready and willing to do the work it was going to take and I had no idea what that looked like, but I was determined to try.
And it took a lot of work. Work that some days I simply couldn't show up for, but other days I did and last January, I sat across the desk of a doctor who finally figured it out. I wasn't bipolar. Yes, I'd been mentally ill, but the cause wasn't my brain. It was my thyroid, adrenal glands and leaky gut.
But knowledge alone didn't cure me. Neither did throwing money at it. And that doctor had good info, but she also put me on tons of expensive supplements and hormones that I didn't need.
By relying on my instincts, I found a chiropractor who helped really steer me in the right direction with supplementation around April. Then right around my 10th wedding anniversary (June 20th), I found my holy grail to put my Hashimoto's into remission and take my severe adrenal fatigue into the medium zone.
As most of you know, the Paleo Autoimmune protocol finally helped ease me into remission right around my 40th birthday (November 9th).
It's been one hell of a year. I weaned from off of 3 psych meds and lost my stepfather when I was going through the worst of the Lamictal withdrawals. There were many times that I gave up, but that little spark of hope was always there – brightly reminding me to continue on with my quest.
The work doesn't stop here and I still have adrenal fatigue, but the solutions have been unearthed.
So what now? What's next? Well there seems to be a natural progression of sorts with these WOTY's. I watched Mish travel from "yes" to "open" to "free" much like a river flows into the ocean. There wasn't a lot of forcing. Not a ton of muscling or self-will. Just flow.
And my word flowed right off this quote from her WOTY post: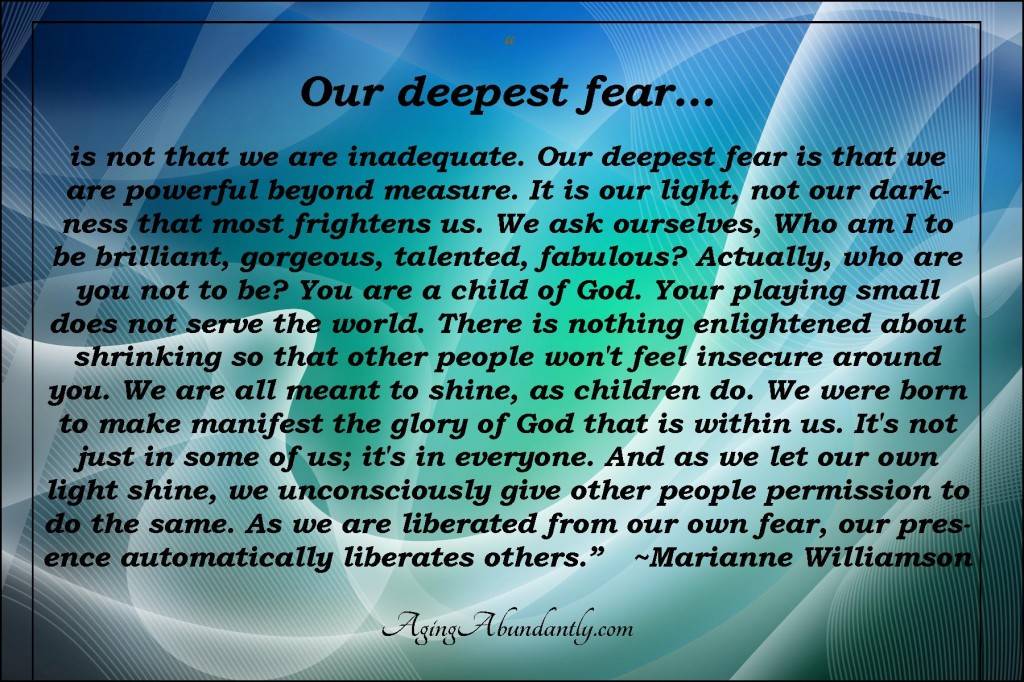 Now that I'm "healthy***," it's time to "shine." Makes sense, doesn't it?
I have a brilliant light inside of me today that started with a spark. A spark of hope. Everyday it grows. People who've known me for years stop to tell me how beautiful and healthy I look. I've even had a few people not recognize me.
Yes, I shed a lot of weight, but there's so much more than that. I look younger. My eyes have changed. My hair has changed. Even my eyelashes are longer and my eyebrows are finally filling back in. These changes are from the inside-out.
I've also made some outside changes. I've started showering everyday and wearing make-up. I get out of my pajamas even when I don't have to. These may sound like small steps, but they're huge to me. I saw no reason to care about my appearance when I was sick so I didn't. And I didn't have the energy anyways. I went days without showering or washing my face. Today I do both!
I get to be a light for others today. I have strangers from all over the world send me questions about my recovery on Twitter and Facebook and my blog. I get to help people from the hell I've been through – and so much like my 12-step work, paying it forward keeps me doing what I need to be doing to take care of my continued recovery and it keeps me in gratitude. It's a privilege and an honor to be able to share my experience on this whole new level.
I feel good about myself. I feel proud of the commitment I've made to my health. I feel so lucky that I found solutions for what felt so impossible.
And I have some impossible dreams. Oh yes, I do. I want to shine my light into a book. A delicious, brutally honest recounting of my journey from madness to optimum health. The book I wish would've been there for me when I was sick to give me hope and solutions. Then I want to shine my light on stages and podiums all over the world to tell my story so that others may be inspired and find their paths to health if that's where God sees it fit to do so. I've had a passion for public speaking and inspiring others for decades that only grows with time and never fades, so it's something not to be ignored, although it feels insurmountable.
And maybe I am fighting windmills in my mind, but that's for me to discover. Maybe becoming an author and speaker is an impossible dream, but maybe, just maybe, it's not all that impossible after all.
No matter what, this year is about shining. Brightly, brilliantly, beautifully. Anything is possible, my friends. Anything!
***I write that I'm healthy, and I while I'm much healthier than I was last year at this time, I have to tread lightly. My adrenals are still quite taxed and I have to take it easy. I can lose remission very easily and have gotten a taste of that horrific fatigue and depression in the past few weeks just from the combo of fighting a cold and traveling with my toddler. (This is me reminding myself to be the tortoise, not the hare.) Maybe world domination isn't in the cards right now, but getting and staying as healthy as humanly possible most certainly is! And continuing to listen to my body…